Marumba tigrina Gehlen
Marumba tigrina Gehlen, 1936, Ent. Zeitschr., 49: 461.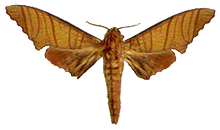 Marumba tigrina


(.65 natural size)

Diagnosis. The forewings are a more ochreous brown than in the previous two, with the five fasciae distal to the cell more or less equally intense (in the other species the exterior and central ones are much stronger than the alternate two). This character is not so marked in Sumatran material illustrated by Diehl (1980). The tornal spot is small compared to those of sperchius and juvencus. The fasciation of the underside is stronger than in juvencus, particularly on the hindwings, though the apical zone of the forewing is less darkened.

Geographical range. Sumatra, Java, Borneo.

Habitat preference. The species is very rare in lowland forest, two on the Mulu survey being taken at 250m on the limestone of G. Api.