Elibia dolichus Westwood
Sphinx (Choerocampa) dolichus Westwood, 1848, Cab. Orient Ent., p. 61.
Elibia dolichus Westwood; Rothschild & Jordan, 1903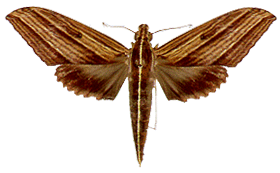 Elibia dolichus


(.65 natural size)

Diagnosis. See generic description.

Geographical range. N.E. Himalaya, Sundaland, Palawan.

Habitat preference. The species is frequent and widespread in lowland habitats.

Biology. The shape of the larva has been described in the generic introduction. Dupont & Roepke (1941) refer to green, red and brown forms. The green form has yellowish brown streaks and spots associated with a black and brown dorsal ocellus. The abdominal segments have dorsal white and yellow spots, a dorsolateral white line, and oblique lateral stripes. The other forms are similarly marked but with the dorsal ocellus black and sepia. Earlier instars are more scarlet and dark brown.

Recorded host-plants, (Dupont & Roepke; Barlow, 1982) are: Saurauia (Actinidaceae); Leea (Leeaceae); Cayratia, Tetrastigma (Vitidaceae).