Eurypteryx falcata Gehlen
Eurypteryx falcata Gehlen, 1922, Dt. ent. Zeitschr., 1922: 360.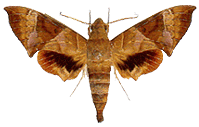 Eurypteryx falcata


(.65 natural size)

Diagnosis. The forewing tornus is strongly falcate. There is large dark brown quadrilateral patch based on the costa, within which the pale discal spot is situated subbasally. Between this mark and the tornus the wing is tinged leaden grey in a broad band.

Taxonomic notes. Sundanian material has the brown quadrilateral slightly larger, bounded by slightly less contrasting pale ground colour, and with the pale discal spot more obscure compared to typical specimens from New Guinea.

Geographical range. New Guinea, Borneo, Sumatra.

Habitat preference. Two specimens were taken in lowland rainforest at 300m in the Ulu Temburong, Brunei. A third was recorded at 900m in lower montane forest on the limestone G. Api, Sarawak.