Macroglossum gyrans Walker
Macroglossum gyrans Walker, 1856, List Specimens lepid. Insects Colln. Br. Mus., 8: 91.
Macroglossum gyrans Walker; Rothschild & Jordan, 1903: 634.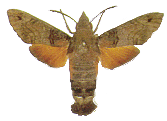 Macroglossum gyrans

(India)
(.85 natural size)

Diagnosis. This is the only species of the group with dull orange hindwings recorded from Borneo; the lateral patches on the abdomen are also dull orange. The fasciae of the forewings are much more finely etched than in other Bornean species.

Geographical range. Indian Subregion to Sundaland and Lesser Sundas.

Habitat preference. The species was noted from Borneo by Rothschild & Jordan but no recent material has been seen.

Biology. Bell & Scott (1937) gave details of the early stages. Early instars are honey-yellow with a black horn. Intermediate ones are pale grass green with and white dots and broad, pale yellow dorsolateral stripes. Final instars are variable, green, brown or black. The green form is most common, with a yellow-striped, reticulated green head, T1 and T2 grass-green, the rest of the body greyish green with a pale-edged violet dorsal stripe and white dorsolateral stripes. The horn is yellow.

The host-plant recorded was Morinda (Rubiaceae).