Macroglossum mitchelli Menetries
Macroglossa mitchelli Menetries, 1857, Enum. Corp. Anim. Petr., Lep. p 95.
Macroglossum mitchelli Menetries; Rothschild & Jordan, 1903: 667.
Macroglossa imperator Butler, 1875, Proc. zool. Soc. Lond., 1875: 243.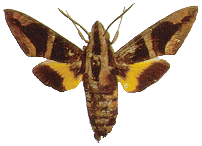 Macroglossum mitchelli


(.85 natural size)

Diagnosis. The thorax is strongly striped. The forewing has a central pale grey bar with triangular black zones on either side of this. The distal triangular zone has a dark process extending from it towards the apex.

Taxonomic notes. Most Oriental material is referable to ssp. imperator. The typical race flies in Java.

Geographical range. Indian Subregion, Taiwan, Borneo, Sumatra, Java.

Habitat preference. Specimens have been taken in lowland rainforest at Labi (1) and at 1618m in upper montane forest on Bukit Retak (3) in Brunei (Harman, 1981).