Hippotion celerio Linnaeus
Sphinx celerio Linnaeus, 1758, Syst. Nat. ed. 10: 491.
Hippotion celerio Linnaeus; Rothschild & Jordan, 1903: 751.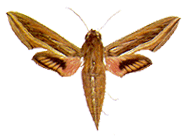 Hippotion celerio


(.83 natural size)

Diagnosis. The species is somewhat similar to velox (see above) but slightly paler, greener, with a less sinuous forewing postmedial. The discal spot is not evident but there is a pale streak longitudinally in the cell. The hindwing is dorsally strongly pink, with a broad postmedial band of paler, duller pink crossed by dark brown on the veins.

Geographical range. Old World tropics and subtropics, migrant to higher latitudes.

Habitat preference. The species is most frequently encountered in agricultural areas and other open habitats in the lowlands, but has also been taken up to 2600m on G. Kinabalu.

Biology. Bell & Scott (1937) refer to green and brown forms of the larva, Dupont & Roepke (1941) noting a black one in addition: the grass-green form with a darker dorsal stripe and white dorsolateral ones, the ocellar marks on A1 primrose yellow with a dark green centre containing five or six bluish or pale green dots, that on A2 yellow with a black edging; the brown and black forms are similarly marked but with dorsolateral lines pale brown or yellow, the anterior ocellar markings dark brown ringed paler or black ringed with yellow, the posterior ones dirty white or yellow respectively.

Recorded host-plants (Bell & Scott, 1937; Dupont & Roepke, 1941; Pholboon, 1965; Robinson, 1975; Yunus & Ho, 1980, Moulds, 1981) are: Alocasia, Caladium, Colocasia, Cryptocoryne, Typhonia, Zantedeschia, (Araceae); Impatiens (Balsaminaceae); Podranea (Bignoniaceae); Beta (Chenopodiaceae); Ipomoea (Convolvulaceae); Hibbertia (Dilleniaceae); Gossypium (Malvaceae); Boerhavia, Mirabilis (Nyctaginaceae); Emex, Rheum, Rumex (Polygonaceae): Morinda, Pentas (Rubiaceae); Nicotiana (Solanaceae); Cayratia, Clematicissus, Parthenocissus, Vitis (Vitidaceae).