Megacorma obliqua Walker
Macros obliqua Walker, 1856, List Specimens lepid. Insects Colln. Br. Mus., 8: 208.
Megacorma obliqua Walker; Rothschild & Jordan, 1903: 15.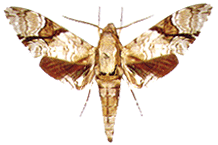 Megacorma obliqua


(.65 natural size)

Diagnosis. The species is like a small version of Meganoton analis (below) but with greenish white forewings and hindwing tornus (cf. grey), a stronger dark band from the centre of the forewing costa to the margin and no arcuate dark band cutting off a lens of ground colour apically on the forewing costa.

Geographical range. Indian Subregion to Bismarcks; Solomons (ssp. remota Jordan).

Habitat preference. The species is often common in forest and disturbed habitats, though may be less frequent at the coast (Harman, 1981). It has been taken as high as 2600m on G. Kinabalu, possibly hill-topping.