Theretra boisduvali Bugnion
Sphinx boisduvali Bugnion, 1839, Ann. Soc. ent. France, 1839: 115.
Theretra boisduvali Bugnion; Rothschild & Jordan, 1903: 767.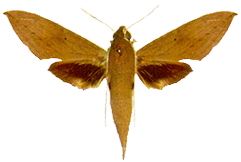 Theretra boisduvali

(Sumatra)
(.83 natural size)

Diagnosis. This and the next two species have black patches at the base of the abdomen in combination with largely brown (not pink) hindwings. T. rhesus has the forewings with multiple oblique, entire fasciae, and the abdomen also banded. T. boisduvali has the forewing with more weakly defined banding, the strongest (postmedial) line punctate on the veins; there is a darker discal shade in some specimens as in clotho; the dorsal part of the abdomen and thorax is unbanded. T. clotho is more uniform than boisduvali, and the single postmedial line is strong, never punctate, edged more distinctly paler basad. T. boisduvali has the yellow green of the underside more uniform, the postmedials of both wings strongly punctate - a row of black dots on the veins.

Geographical range. S.W. Asia through Oriental tropics to Sundaland and Lesser Sundas.

Habitat preference. The species is infrequent, probably encountered more often in the lowlands (Harman, 1981), though one was taken at 2110m on G. Kinabalu.

Biology. The larva was described by Dupont & Roepke (1941). Early instars are pale green with yellowish green dorsolateral stripes, oblique lateral stripes, and a black spot in the ocellar position on A1. The horn is long, thin, straight, black. The mature larva is darker with a pale greyish green dorsolateral, and six oblique lateral stripes. The ocellus on A1 is dark, with a yellowish spot, ringed by greenish yellow. The horn is tall, purplish.

The host-plant recorded was Cissus (Vitidaceae).