Cechenena helops Walker
Philampelus helops Walker, 1856, List Specimens lepid. Insects Colln. Br. Mus 8: 180.
Cechenena helops Walker; Rothschild & Jordan, 1903: 801.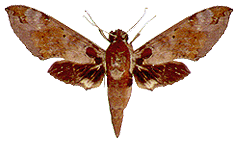 Cechenena helops


(.65 natural size)

Diagnosis. The mottled grey-green forewings with the round, dark green subbasal patch are diagnostic.

Geographical range. N. India to Bismarck Is.

Habitat preference. The species is less frequent than lineosa but has been taken in the same range of localities.

Biology. The larva was described by Dupont & Roepke (1941). The young larva is green with pale yellow dots and a pair of ocelli on A1. The mature larva is greyish brown speckled dark brown. White lines run from the ocelli to the head. The short horn is downcurved, dark brown, granulated with white tubercles.

The host-plant recorded was Tetrastigma (Vitidaceae).