Clanis bilineata Walker
Basiana bilineata Walker, 1866, List Specimens lepid. Insects Colln. Br. Mus., 25: 1857.
Clanis bilineata Walker; Rothschild & Jordan, 1903:213.
Clanis bilineata sumatrana Clark, 1936, Proc. New Engl. Zool. Club., 15: 75.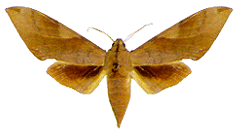 Clanis bilineata


(.65 natural size)

Diagnosis. Both this and the Clanis stenosema Rothschild & Jordan have rather macroglossine build and wing shape, with a conspicuous paler brown triangle based on the centre of the forewing costa. In bilineata the base is less than one third of the length of the costa and apex is approximately a right angle. In stenosema the base is considerably more than one third of the length of the costa and the apex is obtusely angled; the pale triangle contrasts more with the rest of the forewing in stenosema.

Taxonomic notes. The race of bilineata in Borneo is sumatrana Clark.

Geographical range. N. India to Korea, Japan, Borneo and Sumatra.

Habitat preference. The single specimen seen was taken in lowland forest at Ulu Temburong, Brunei.

Biology. The larva in India was discussed and illustrated by Bell & Scott (1937). It is a grass green , tinged greyish, with narrow yellow oblique stripes and yellow tubercles. The horn is longer than in congeners but still short relative to other Sphinginae.

Recorded host-plants (Bell & Scott, 1937; Miyata, 1983) are: Glycine, Lespedeza, Millettia, Mucuna, Pongamia, Pterocarpus, Pueraria, Robinia, Wisteria (Leguminosae).