Rhynocholaba acteus Cramer
Sphinx acteus Cramer, 1779, Uitl. Kapell., 3: 93..
Rhynocholaba acteus Cramer; Rothschild & Jordan, 1903: 789.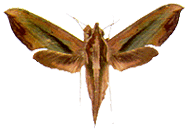 Rhynocholaba acteus


(.83 natural size)

Diagnosis. The forewing ground colour is ochreous brown, divided by a broad, oblique green band that is darker basally and towards the dorsum. The marginal zone is broadly but irregularly a mottled dark grey.

Geographical range. Japan. Oriental tropics, Moluccas.

Habitat preference. Like most Theretra, this is a species of open and cultivated lowland habitats.

Biology. The larvae were described by Bell & Scott (1937) and Dupont & Roepke (1941). There are two forms, green and reddish brown, with paler lateral oblique stripes on the abdominal segments. The green form is rich grass green on the abdominal dorsum, bluish green elsewhere. There is a whitish dorsolateral stripe in both forms, a massive ocellar mark on A1 and obliquely oval, much smaller ones on the six segments following. The smaller ones are green ringed with black. The large one is bluish black and dark green with white spots, ringed white, black then white (green form), or black and reddish brown, ringed white, black, then grey (brown form). The large ocelli are infolded when at ease, exposed through retraction of the thorax and expansion of T3 and A1 when alarmed, much as in Theretra latreillei. The illustrated Hong Kong larva is slightly differently coloured.

Recorded host-plants (Bell & Scott, 1937; Dupont & Roepke, 1941; Yunus & Ho, 1980; Barlow, 1982; Miyata 1983; CIE records) are: Alocasia, Amorphophallus, Arisaema, Caladium, Colocasia, Dieffenbachia, (Araceae); Begonia (Begoniaceae); Commelina (Commelinaceae); Leea (Leeaceae); Cissus, Vitis (Vitidaceae).