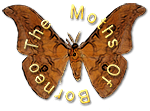 THE MOTHS OF BORNEO

Vol. 1
Vol. 2
Vol. 3
Vol. 4
Vol. 5
Vol. 6
Vol. 7
Vol. 8
Vol. 9
Vol. 10
Vol. 11
Vol. 12
Vol. 13
Vol. 14
Vol. 1

5&16

Vol. 17
Vol. 1

8

Forget Your User
ID/Password?


Pre-order information, please click here

Corrigenda to Corbet & Pendlebury's The Butterflies of the Malay Peninsula,
5th edition (2020),
revised by George van der Poorten & Nancy van der Poorten
(ISBN: 978-983-44886-3-5)
by George van der Poorten and Nancy van der Poorten, March 18, 2021

Download full list here

MOTHS OF BORNEO
Proceed to sample vol. 3 click here

BACKGROUND
The Moths of Borneo is a major part work production, estimated to run to 18 volumes covering all the 'macro' moths recorded from Borneo, currently estimated at some 4,500 species, all of which are illustrated in colour. Twelve parts have already been published, with six more to come (See Publication Schedule)

The work has been undertaken by Dr J D Holloway, who has been working on the subject for more than 20 years (See About the Author)

As a result of contacts with Universiti Sarawak Malaysia, ARBEC and The Natural History Museum, London as well as , the ASEAN Regional Centre for Biodiversity Conservation (ARCBC) headed by Dr John MacKinnon, it was decided to put the whole work online. So far volumes 3 and 1 have been put online. The remainder of those published will follow shortly. Volume 3, which includes the popular groups, Sphingidae (Hawk Moths) and Saturniidae (Emperor Moths) will be available free as a sample until further notice. The remainder will be by subscription (See Orders)

AIMS
The series is aimed at:
| | |
| --- | --- |
| * | Entomologists in tropical Asia and Australasia concerned with identification of Lepidoptera of importance to man in agriculture, horticulture, forestry, land management and conservation. |
| * | Lepidoptera systematists world wide |
| * | Museums |
| * | University and school teachers in South East Asia concerned with taxonomy and identification in biology and natural history. |
| * | Amateurs interested in the moths of the area. |
The work provides:
Diagnoses of all Bornean species, a high proportion of which are found throughout the Oriental tropics

Diagnoses of the majority of crop pests occurring in the Indo-Australian humid tropics

Diagnoses of a high proportion of genera and species of forestry pests in the same area

A review of the biology of the species or genera where known

A major facility for self help for agriculturists, foresters, conservationists, museum curators and teachers within South East Asia

Guidance for quarantine officers intercepting produce from the Asian tropics, and for those within the area for the identification of intercepts as alien rather than local

The stability of nomenclature of important species that is essential for input and retrieval in computer databases

A foundation for the recuration or development of local collections used to support applied entomology in the area

A foundation work from which more strictly applied studies can be developed. Its value is that these can be developed locally with less recourse to overseas services.
INTERROGATION FACILITIES
The following interrogation facilities have been/are being introduced.
1. List of foodplants by moth superfamily, family and genus. Facility to enable users to interrogate the data-base via boolean logic to obtain findings which fit their exact requirement. In this connection see also The National History Museum Lepidoptera Foodplant website on www.nhm.ac.uk/entomology/hostplants.
2. Distribution of superfamily, family, genus a using digital mapping facility. The facility will enable users to view the spread of specific species over a designated geographical area within the Asia Pacific region. This facility is an important tool for researchers and ecologist to enable them to analyze migration patterns of individual species in relation to sustainable development of specific regions.
3. This facility will assist researchers to pinpoint the type of host plants favoured by certain species.
4. Indices
Volume indices and cumulative index are being prepared as each volume goes online. They are divided between scientific names of moths, (genus, specific and subspecific names are indexed).
If there are any other interrogation facilities you would like to added, please email hsbar@pc.jaring.my with details.

Hyperlinks
Hyperlinks will take you to the following websites containing material which you will also find of relevance.

They are:
* Robinson's foodplant database
* Friends of the Natural History Museum
* Natural History Museum website

When you have perused the data-base, please turn to our comments (hyperlink) section and let us have your views and ideas for improvement.

We wish you happy browsing on The Moths of Borneo online.